Make Icons Easily With ArtIcons Pro, a Powerful Windows Icon Editor and Icon Manager
ArtIcons is a powerful icon manager and an icon extractor that can be used for different purposes such as extracting the images from your computer which can then be used to make icons, creating icons for Windows and even to manage icons libraries more effectively.
With ArtIcons you can:
Create and edit icons in either standard or custom sizes, in color depths up to 16 million colors
Make icons for Windows 8 in 32-bit color depth with 8-bit alpha channel
Create and store images containing several layers
Paint images with gradient and chess fill
Modify images with drop shadow, opacity, smooth, negative, grayscale, colorize, rotate, roll and mirror effects
Create and manage icon libraries for better and more efficient icon storage
Paste images in various graphic formats (ICO, ICPR, BMP, JPEG and PNG) directly into icons
Export icon images to ICO, ICPR, BMP, JPEG and PNG files
Extract icons from Windows executables, libraries and animated cursor files
Extract icons from all files in selected folders and subfolders and save them as icon libraries
Convert Mac OS icons to Windows format
Modify icons inside executables and other program files
Sort images inside icons and icons inside libraries
Customize Windows Desktop and folder icons
Drag and drop files from file shells
Drag and drop icons between different libraries
Use English, Spanish, German and other interfaces
With ArtIcons Pro you can in addition
Import GIF, Adobe Photoshop PSD, WMF, XPM, XBM and WBMP images, CUR and ANI cursor files
Export images to GIF, Adobe Photoshop PSD, RC, XPM, XBM, WBMP and CUR files
Import and export icon color palettes
Work with image lists in BMP and PNG formats
Export library items into one single image
Split icon libraries into individual icon files
Split icons into sub-icons
System requirements: Windows 95/98/ME/2000/NT/XP/2003/Vista/7/8, Windows PC.

Interface languages: English, Catalan, Chinese, Chinese (BIG5), Czech, Dutch, French, German, Hungarian, Italian, Norwegian, Polish, Romanian, Russian, Serbian (Cyr), Serbian (Lat), Spanish, Swedish, Ukrainian.

Trial limitations: 30-day trial period, nag screen.


Download:
Articons Pro - exe - zip
Articons Std - exe - zip

Order:
ArtIcons Std
ArtIcons Pro, Windows Icon Editor

If you use icons regularly to give your website a unique and personable touch or in your applications to make them more user friendly, there are two was to get your hands on icons for windows and other graphic images, you can either buy the ready icons available on numerous websites or you could create your own images. It is actually considerably simpler than you think besides you can get ample of help from some very good tools available for the purpose.

One of the most powerful and versatile icon extractor and maker is known as ArtIcons. This tool lets you make icons easily from existing images. The software is extremely use friendly and can be used by amateurs as well as professionals to create impressive web graphics. The tool is also a potent icon manager that can be used to keep track of all your image and icon files and libraries.

With ArtIcons you can create some very stylish icons; the software can also be used with equal efficiency to edit existing images and icons. You make icons and images in standard or custom sizes; this holds true for both new images and edited icons. You also have a lot of choice when it comes to the color of these images; once again you can edit existing images and create new ones; particularly, for Windows XP in 32 bit color depth and a 8 bit alpha channel. Another impressive feature of this tool is its ability to create multi layer images that look stunning. You can paint the images to suit the design wither in gradient or chess fill.

You also get a wide variety of choices when it comes to the image effects. For instance, not only does the tool have all the effects normally found in most other image editing tools but also there are some other effects like hue/saturation and mirror effects that are particularly well suited for creating icons for Windows. The tool also works as an icon extractor and can be used to import and export icons in various formats from JPEG to ICPR and from PMNG and BMP files to ICO. The tool is also a powerful icon manager and you can better manage and sort your image libraries and icons and store them more efficiently by using this tool.

The software can also be used to replace the colors of an image. Screen shots can also be taken with the help of the program and these images can then be turned into personalized icons for various purposes and even icons for Windows. The icons created through the use of this software are so good that they can be easily used in applications and on websites apart from your desktop of course. The software also helps you to extract icons from Windows files such as the executables, libraries and animated cursor files. You can extract all these images in selected folders and save them in an icon library that can serve as the source for your graphic designing requirements when you want to make icons. You can also convert Mac icons to be compatible with Windows. Also, the tool is available in an assortment of interfaces that include several languages such as Spanish, English, German, French and many more.


Read Icon Articles
Get Win8 Icon Editor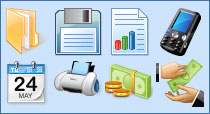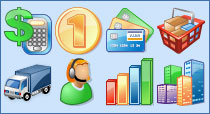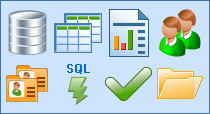 Win 8 Icon Editor
is our pick. It enables amateur and professional developers to design and edit all kinds of icons. It supports ICO, BMP, PNG, GIF, ICPR, PSD, XPM, XBM, WBMP, CUR, ANI formats. German interface is available.
IconLover
allows you to design and edit all kinds of graphics required in the software development cycle, including icons, static and animated cursors and interface elements - all these kinds of graphics can now be designed in a single application.
ArtCursors
allows you to find, create, edit, import and export cursors and manage cursor libraries. It supports static and animated cursors.
Any to Icon
converts icons and cursors into BMP, JPG, PNG, GIF, ICO, CUR and other formats. This wizard can find icons and make images for use on Web pages.